A N N O U N C I N G . . . .
Upcoming Online Workshop Offerings!
Presented by Silvera Jewelry School
Explore New Ground – Enameling on Steel Forms with Alisa Looney
Tuesdays, May 9, 2023 – May 30, 2023; 2:00PM – 5:30PM PT (Pacific Time)
Online
Cost: $360

Have a desire to enamel on steel forms? Learn to design, cut, and form various gauges into three dimensional shapes. Clean and prepare the steel for a ground coat formulated to adhere for a strong yet leightweight structure. 
In this class with Alisa Looney, not only will you learn how to work with the steel to prepare it for enameling, but also learn the granular spray technique she uses with sgraffito to get those delicate lines with no chipping! The course covers professional as well as budget concious options. Experience enamel like never before with incredible control on your steel forms. 
Create work in a variety of styles- from detailed drawing to abstract patterns, loose and expressive or realistic and precise. Graisalle techniques will also be covered, building up shades of black and white to achieve depth and detail. 
This course is available as a live online class.
A fun video showing Alisa's sgraffito process, drawing into the granular spray layer, using a sharp pin-pen tool, ending with close up (before firing in the kiln).
___________________________________________________
Bend Studio Workshops:

Our mission is to help people connect with nature on a deeper level through art. Whether sketching outdoors, or taking your images further in a woodblock printing or enameling workshop, we want to help you find your unique expression.
Shift to Online Courses during the pandemic…
We hope you and your family are staying well during these pandemic times.
As many have, we made the shift to online course offerings during the pandemic. We are beginning to offer just a few private in-person workshops again, requiring masks and vaccinations. If  you would like to inquire about an in-person course, please email alisa@alooney.com.
If you would like to be the first to hear about our online and in-person offerings, please send your email to alisa@alooney.com and keep an eye out for our workshop announcements.
Scroll down to see workshop descriptions.
Blessings and Health to you all,
Alisa and Wade
A fun video showing some of wade's processes: carving woodblock, printing and adding watercolor to create a  monoprint.
S T U D I O   W O R K S H O P    S C H E D U L E :
_____________________________________________
B L O C K  P R I N T I N G   W O R K S H O P S   
During these 4-week workshops, Wade Womack will lead you through the process of reduction block printing, teach you how to think about line, design and composition using multiple color plates.  On week 1 you will design and carve the first color plate,  and print the full edition of that color. On week 2 the first print will be dry and you will carve into the same block to create the second color plate and print the entire edition with the second color, in registration. On the third week, the third color and so on.  Vaccinations and Masks Required.
Hours:    Day 1:   10am-5 pm;         Day 2, 3 & 4:   10 am-2pm
$420, includes materials
Limited Dates:  Contact Wade to schedule


Limited Dates:  Contact Wade to schedule
––––––––––––––––––––––––––––––
E N A M E L I N G   W O R K S H O PS
Intro to Enameling – Earrings and Pendant 

with Alisa Looney – 1-Day workshops
Fusing glass to steel is an ancient form of alchemy that is being used today to create colorful and lasting artwork. During these 1-Day Workshops Alisa Looney will lead you through the process of creating your own pair of earrings and pendant from start to finish.
Enamel (glass) on steel jewelry is lightweight and fun to wear! The earrings and pendant shown above are student samples to give you an idea of what is possible. You are welcome to use ideas from references we have on hand, or invent a design of your own, working from sketches, photos, doodles or patterns that inspire you. Vaccinations and Masks Required.
10 am – 5 pm    
$95   
$15 materials fee due at time of workshop
Limited Dates:  Contact Alisa to schedule.

Draw & Paint with Enamel (glass) on Steel 4-Day Workshops with

Alisa

 Looney
Go into depth with enamel on steel at our Bend, Oregon Studio.
These 4-day workshops  are each open to up to 2 participants to create a wall relief or sculpture, jewelry elements & small test panels. Learn to design, cut and shape steel, prepare surface, then apply ground coat and several Kiln-fired layers of glass to create a lustrous and colorful finish that will never fade.  Vaccinations and Masks Required.
Hours daily: 10-5, with lunch break from 1-2.
$575,  plus $55 materials fee, (Min. Deposit of $300 to hold your space, Balance of $275, plus $55 Materials fee due on first day of workshop)
Limited Dates:  Contact Alisa to schedule
––––––––––––––––––––––––––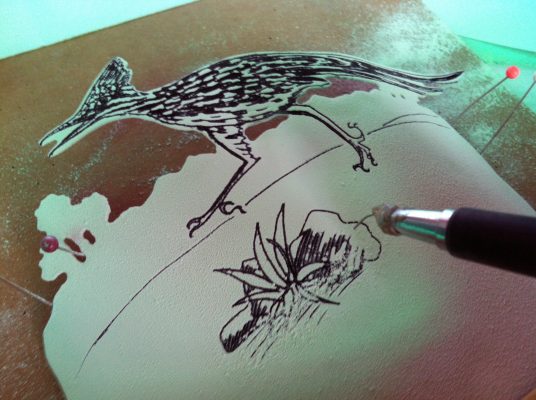 More Online Classes on the way!
I have been taking process videos, photos and detailed notes over the past few years and have some incredible tools and techniques to bring directly to your studio through zoom. Many of you have requested this online option for enamel on steel, granular spray, sgraffito, and watercolor enamel painting techniques. I am so very grateful to have learned from my incredibly skilled professor, enameling mentor and friend, John Killmaster, who has given me his blessing to pass these techniques on to you. This is a wonderful solution for those of you who can not travel and already have a studio to work in at your own pace. Thank you for your continued interest.
Excited to share this Alchemy with you!
_________________________
PAST ONLINE WORKSHOPS:

Saturday, October 22 & 29, 2022

3:00-6:00

p.m. ET

Create depth, shading and detail by blending and layering Watercolor enamels. Work over a pre-fired granular spray or solid white. This method of alternating painting and sgraffito techniques, allows you to add and subtract enamel to build complex illustrations, bold abstractions and colorful textures. Apply lusters just where you want glitz, or brush freely over dark backgrounds. These combined techniques open avenues for surface treatments on 2D and 3D forms, inviting experimentation while enhancing your own unique style. Take as a stand-alone course or add to the granular spray and sgraffito covered in Part 1 – Enamel on Steel Forms.
Explore New Ground – Enamel on Steel Forms (Part 1)
Instructor: Alisa Looney

Thursdays, September 15, 22 & 29, 2022

4:00-6:30

p.m. ET

Have a hankering to enamel on steel? Learn to design, cut, and hammer varied gauges into 3D forms, and apply ground coat for strong yet lightweight structure. Both low cost and professional methods covered for applying liquid enamel with granular spray for smooth consistent textures, gradations and stencils. Experience incredible control when you sgraffito varied line thicknesses in abstract patterns or detailed drawings. Fire to desired finish from sugar to gloss, creating forms with an ideal surface for layering liquid and transparent enamels. Take as stand-alone course or follow with Part 2 – Mastering Watercolor Enamels and Lusters.
________________
Instructor: Alisa Looney
October 1, 8  & 15

, 2021


4:00-6:30

 p.m. ET
Experience the freedom of Granular Spray! Apply white liquid enamel with the granular spray technique, resulting in a powdered finish that allows you to sgraffito (scratch) clean lines with ease and control – no more chipping!
Experiment with several sgraffito tools (make a pin-pen tool!) to create varied line qualities and thicknesses in mark making, cross hatching, stippling, brushing, lettering and combing.  
Work in any style: expressive or detailed, then add depth and color, layering watercolor enamels and lusters. 
Live zoom demos and instruction using pre-enameled steel panels and copper, designing flat and dimensional jewelry elements. Kiln required, firing techniques covered.
_________________
In Partnership with the Center for Enamel Art and Silvera Jewelry School
Granular Spray, Sgraffito, and Watercolor Enamel with Alisa Looney (online)    
June 19 – June 27, 2020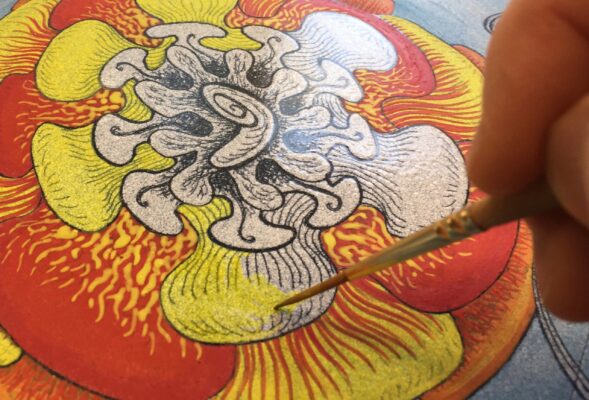 Expand your artistic tool kit by learning to sgraffito with ease in liquid enamel, and no more chipping! We will work on pre-enameled steel, adding layers of glass with granular spray, sgraffito and watercolor techniques to create colorful, custom surface treatments.  
Join Alisa Looney as she shows us how to use spray application to achieve a buttery smooth surface and create extremely detailed sgraffito designs. Alisa will show you how to add color with watercolor enamels on top of your sgraffito for a rich, layered, and colorful effect!
Design, cut and prepare pre-enameled steel for enameling. Copper shapes can also be used. Learn to apply white liquid enamel with the granular spray technique, resulting in a powdered finish that allows you to sgraffito (scratch) clean lines with ease and control when making marks, textures and/or drawings into the surface. Experiment with several sgraffito tools to create varied line qualities and thicknesses in mark making such as cross hatching, stippling, brushing and combing.
This technique opens avenues for the freedom to work in any virtually any style: loose and expressive or detailed and precise. After firing the white layer, you will add depth and color by painting with Watercolor Enamels. Appropriate kiln-firing temps and techniques for each layer will be covered. You can expect to complete a series of small panels and jewelry elements during this workshop. Live demos and instruction in four separate three-hour zoom sessions will allow plenty of time to practice between sessions.
ALL LEVELS WELCOME!  Prior enameling experience is recommended. Kilns are required for this workshop.
Workshop Hours:
Saturday and Sundays  10 AM to 1PM Pacific Time
June 19, 20, 26, and 27, 2020
Materials List: Provided after registration

 —————
Past Traveling Workshops:
The Enamelist Society Conference   –  Assisted John Killmaster with his Enamel on Steel – Granular spray and sgraffito workshop, University of Oregon, Eugene, Oregon, July 31 – Aug 2, 2019
Carpenter Art Enamel Foundation   –  Draw & Paint with GLASS on STEEL – Alisa Looney , Bellevue, KY, Mar. 21- Mar. 24, 2019
Pioneer Craft House  –  Draw and Paint with Glass on Steel  –  Alisa Looney, Salt Lake City, UT, October 2018
Idaho Art Education Association  – Draw and Paint with Glass on Steel  –  Alisa Looney and John Killmaster, Fire Fusion Studio, Boise, ID, October 2018
Idaho Art Education Association  – Block Printing  –  Wade Womack, IAEA Conference, Meridian, ID, October 2018
Idaho Art Education Association  – Keynote Address, Listening with Kindness breakout session, Sketch in Motion workshop, Sculpture Design Sketch in 3D workshop –  Alisa Looney,  IAEA Conference, Meridian, ID, October 2018